Now Open To The Public!
We are very excited to announce Luna Sands Resort is now open to the public!
Welcome to Luna Sands Resort! We are proud to represent our campground with the perfect combination of amenities and Florida sun.
Everything we do is designed to meet specific needs of the community and the individual families in need.  Together, as one, we rise to protect the most vulnerable and provide for those in desperate needs of basic necessities.
With over 120 sites, plus 6 additional overflow sites, we are waiting for your arrival! Our resort accommodations include a clubhouse, pool, bath-house facility, tiki bar and themed weekend events from November through April. Wether you are traveling far or not too far, we are sure to make this feel like home!
Contact Us
Address:
1440 E Minnesota Ave
Orange City, FL 32763
Phone:
(386) 775-3996
Email:
[email protected]
Our Hours
Mon – Thu: 09:00 AM – 07:00 PM
Friday: 09:00 AM – 10:00 PM
Saturday: 09:00 AM – 08:00 PM
Sunday: 09:00 AM – 07:00 PM
Resort Amenities
Games & Entertainment
Swing set
Outdoor Pool
Tikki Bar
Clubhouse
Basketball Court
Cornhole
Themed Weekly Activities
Modern Conveniences
WiFi
Climate Controlled Bath Houses
Old-Time General Store
Laundry Facilities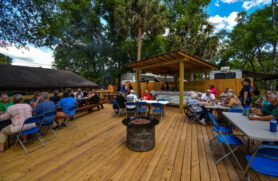 Community Events!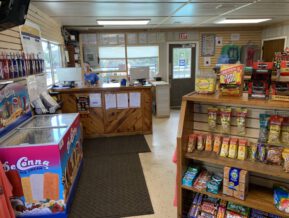 Old-Time Country Store!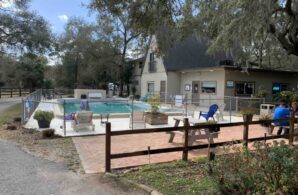 Fun For The Whole Family!
RV Sites
Check in – 01:00 PM
Check Out – 11:00 AM
Back In/Pull Through 30/50 AMP with sewer
Travel Trailers
Back In/Pull-Through 30/50 AMP without sewer
20 AMP Water & Electric
Campsites
Check In – 01:00PM
Check Out – 11:00 AM
Cabins
Check In – 03:00 PM
Check Out – 11:00 AM